Content has always been an important marketing tool that drives sales and increases the company's reputation. Content curation is a process to collect information and share it with your audiences so that they get to know about it. According to stats, around 90% of marketers provide informational content to audiences. Being a digital marketer, if you wish to take full advantage of content marketing, it's essential to look for the leading content curation tools. 
The tools offer you all the advantages of publishing good quality content by eliminating the need to create the entire thing on your own. Simultaneously, it also saves a lot of effort and time while adding some contemporary aspects to your content. At least 60% of marketers are expected to create at least one content every day. If you are one of them and wondering about the best set of content curation tools, here is a list. 
1. Pinterest
It is an application or a 'social media platform' where visual content is uploaded regarding lifestyle, marketing, health, travel, food, etc. Once users come across such content while scrolling through Pinterest, users pin such content to take a look at whenever they want to. As a part of content strategy, you can create a free account on Pinterest and start uploading relevant content that users are interested in. With that, you can engage a lot of audiences to your website who would like to opt for your company when there is a need.
2. Instapaper
Among various content curation tools, Instapaper has been quite popular from the last ten years. The application allows you to create an ad-free Instapaper website and upload content that targets your audiences. As a result, audiences would get a chance to read your content, and if they like, they will opt for your company. Also, the content can be read offline, which is a great benefit, and you can communicate with your audiences by replying to their queries. It helps the company to get associated with more audiences, and they also feel more connected to the brand. 
3. Scoop.it
Many companies claim that they have gained huge popularity after using Scoop.it. Based on the specific topics, you can pick up relevant content and share it directly across the social network. There are two variations; one is for free with which you can create one topic page with 50 scoops. And the paid version comes with a lot of features like creating more topic pages with a lot of scoops, sending the topic pages as an email newsletter, etc. 
4. Curata
Curate is content curation software, allowing you to choose from several sources, such as news sites, blogs, keywords, authors, keywords, etc. and form highly relevant content. Along with that, it allows you to add images and videos accordingly and share it across the platform. Over time, Curata uses machine learning to discover more content to refine the results over a period. 
5. Listly
It is a curation tool used for sharing and creating lists. Listly is a popular and well-liked content curation tool, and it makes sense if you wish to include lists in your content marketing strategy. Lastly, creating lists is done in a few minutes with this tool while keeping the target audience into consideration. Listly gives you the flexibility to add others to your lists on your website.   
6. Pocket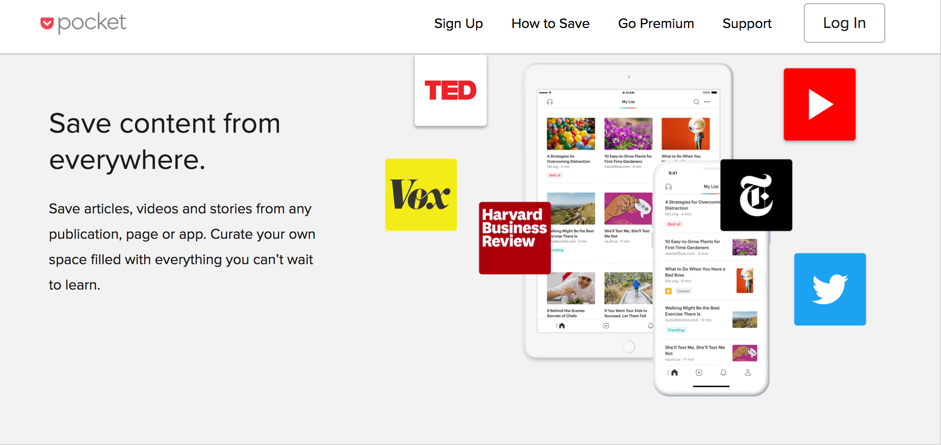 Pocket, popularly known as ReadItLater, is a website where you can tag and save content with a browser bookmark button. It is an excellent tool for curating resources for personal staff as it is not available for the public. Tags can be used to differentiate your content under specified topics, which can also be accessed offline. Both free and paid versions are available, but the paid version offers a permanent backup of any content that you have saved. 
Signing off!
As marketers look for new content marketing methods, content curation tools are a suitable alternative they must consider. With that, creating content would be easier and time-saving while targeting the audience. It helps to gain more conversion rates, thus improving the company's performance. That's all; now that you have a brief detail of all the content curation tools ensure that you use it to beef up your content marketing strategy.